Posted by Sara Naff on Sep 28th 2023
Pumpkin season offers more than just the perennial Dunkin' versus Starbucks debate about which makes a better PSL. One of early fall's favorite fruits (along with the apple) can be used for fun classroom activities from pre-school to third grade on topics that range from art to math to geography and more.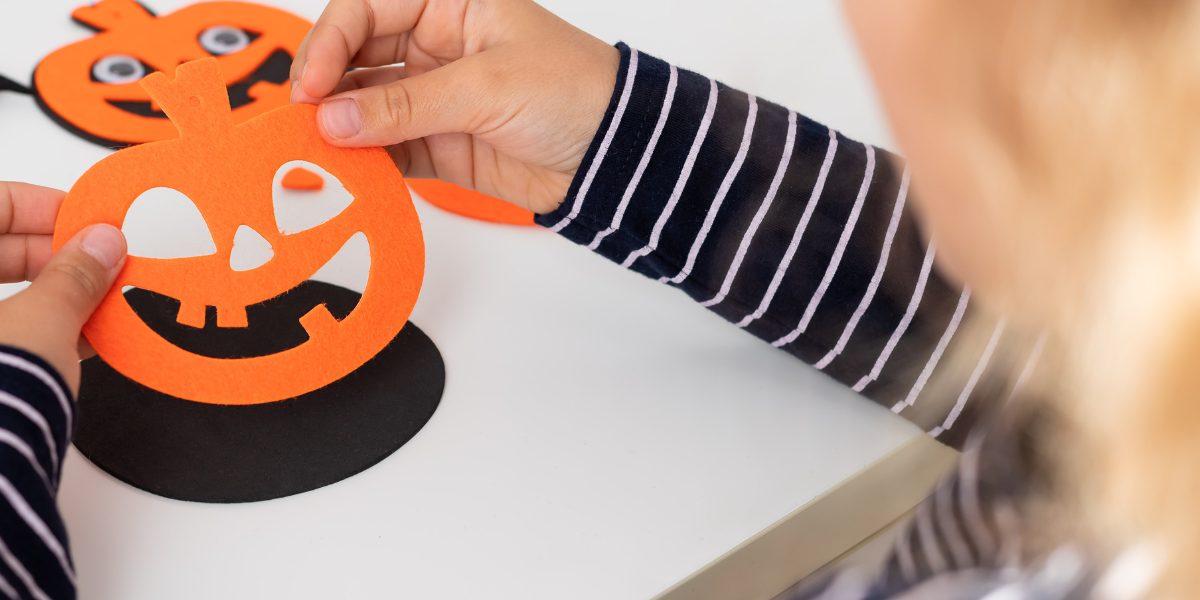 The leaves are turning, the air has that crisp chill, and it's officially pumpkin-spice latte season!
Although some of us are busy indulging in our favorite autumnal beverages, let's not forget that pumpkins offer more than just a tasty treat. They provide a multitude of opportunities for interactive, hands-on learning across different age levels.
So, put aside your PSLs (don't worry -- it's just for a moment!) and dive into these age-appropriate pumpkin-related activities for the curious minds in your classroom.
Click the links throughout for some of our favorite resources, including free printable templates and more low- or no-cost teaching tools.
Pre-School Activities
Pumpkin Sensory Bin
Fill a bin with pumpkin seeds, small gourds, and other fall items. Allow the children to explore the textures, sizes, and shapes. This tactile activity aids in sensory exploration and fine motor development.
Pumpkin Faces
Give children a cut-out of a pumpkin and various craft items like buttons, yarn, googly eyes, and felt pieces. Let them create their own pumpkin faces, helping them identify different facial features and expressions.
Colorful Pumpkin Patch
Teach children about colors using pumpkins. Paint small pumpkins in various colors and let children identify and group them.
---
Kindergarten Activities
Pumpkin Seed Counting
Use pumpkin seeds as counting aids. Create number cards and have the children place the corresponding number of seeds next to each card. This promotes number recognition and basic arithmetic skills.
What's Inside a Pumpkin Exploration
Cut open a pumpkin and let the children see and feel its contents. Discuss the various parts, like the skin, pulp, and seeds.
Pumpkin Story Time
Read stories about pumpkins and discuss the life cycle, or perhaps dive into tales where pumpkins play a central role.
---
First Grade Activities
The Life of a Pumpkin
Teach about the stages of a pumpkin's growth. Create a visual chart or storyboard and let children draw or paste pictures representing each stage.
Pumpkin Measurements
Bring in various sizes of pumpkins and have the children estimate and then measure their circumference, height, and weight. Have them assign names and even roles to this "family" of pumpkins.
Pumpkin Seed Art
Use pumpkin seeds as art materials. Children can glue them onto paper in patterns or shapes, promoting creativity and fine motor skills.
---
Second Grade Activities
Pumpkin Science
Discuss what conditions pumpkins need to grow. Maybe even start a mini pumpkin garden in the classroom (or a windowsill)!
Pumpkin-themed Math Problems
Create math story problems related to pumpkins, such as buying and selling them, or even fun challenges like "If one pumpkin pie requires 200 seeds, how many seeds are needed for five pies?"
Pumpkin Geography
Research where pumpkins grow around the world. Map them out and discuss different pumpkin varieties.
---
Third Grade Activities
Pumpkin Genetics
Dive into a simple genetics lesson by discussing how pumpkins are different: why some are large, some are small, and why they come in different colors.
Detailed Pumpkin Art
Let children sketch detailed drawings of pumpkins, focusing on shading, texture, and depth.
Pumpkin Journals
As a class or individually, encourage children to keep a journal observing the life cycle of a pumpkin. They can document its growth, changes, and the eventual transition as it matures. This not only teaches them about the pumpkin's life but also instills observational and note-taking skills.
As I said, pumpkins aren't just for lattes (but I could seriously use another cup of joe right now!). They offer an array of hands-on, fun, and educational experiences across different age groups. Embrace the pumpkin-spice season and introduce these activities in your classroom for a memorable, pumpkin-filled learning journey. Happy teaching!
Online Training for Early Childhood Educators
Need hours or CEUs? Seeking professional development? The list below highlights just some of our courses that can help you develop and hone skills to be a stellar teacher all year long.
---

Sara Naff is an early childhood education professional who has taught in the preschool classroom as well as adult learner environments. She is Director of Operations at AIR Childcare Training Solutions.